TOP 5 THINGS TO CONSIDER BEFORE BUYING HOME IN RETIREMENT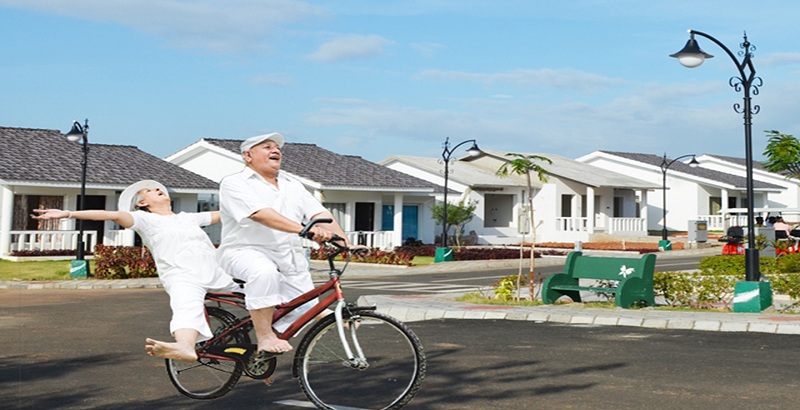 Investment in a house is a crucial decision at any point especially if you are planning one for your retirement. Preferences vary from couple to couple. Some retired couples may prefer to buy a regular apartment in the city while many prefer to have homes designed especially for them.
Nowadays homes for retired couples or senior citizens in Bangalore are coming up at several locations.
You can look for many such senior citizen homes in Bangalore like Ozone Urbana and Brigade Wisteria.
Housing for senior citizens is still a nascent concept in India.
It is only in the last decade that developers have been actively focusing on building such projects.
Senior living properties are designed and maintained with a focus on the special requirements of senior citizens.
The cities of Pune, Bangalore, Chennai, Kochi, Coimbatore and pilgrimage place like Haridwar, Rishikesh, and Vrindavan are popular among pensioners and senior citizens.
If you are looking to invest in just another apartment or a senior living project here are some of the factors you must consider before taking the leap:
1.CHOOSE THE RIGHT LOCATION
Investment in real estate often revolves around location.
A vital factor to consider while choosing the location of your retirement home is proximity to your friends and family.
Easy and quick access to medical care should also rank high on your list of priorities.
Also ensure that your home is well connected to safe modes of transport, both public and private.
You may want to retire to a city with a pleasant and salubrious climate throughout the year with plenty of sunlight and fresh air.
2.FACTOR IN EXTRA EXPENSES
As you inch closer to your retirement years, start working on your budget to get an idea of what you can expect in terms of your income and expenses.
Spending on a property doesn't end with merely purchasing it.
You must remember to factor in additional expenses for repairs, improvements, and alterations.
Buying a relatively new retirement home may help you avoid immediate repairs, improvements, and alterations.
Buying a relatively new retirement home may help you avoid immediate repairs and changes, but you may still have to pay a substantial maintenance fee.
While working on your post-retirement budget, remember to anticipate the cost of your medical care and any additional nursing services you may need to hire.
3.INVEST IN A SECOND HOME BEFORE RETIREMENT
In order to tide over any financial difficulties and ensure a regular source of income post- retirement, a viable option is to buy a second home while you are still working.
Investing in a property makes sense as the rental income can be used to pay the monthly EMIs of a home loan.
However, it is advisable to buy a second home at least 10-15 years before you stop working so that you can pay off the home loan comfortably.
To ensure that your second home generates income soon after it's purchased, invest in a ready to move in property that can be easily leased out to tenants.
In case you are falling short of funds for your retirement home, you will also have the option of liquidating this asset.
4.LOOK OUT FOR SPECIAL AMENITIES
Senior living projects developed scientifically for senior citizens are replete with amenities and services to cater to their specific needs.
If you intend to invest in such a project make sure they come with the following amenities:
Ensure there are grab rails, anti-skid tiles, passageways for wheelchairs for your safety and comfort
The project should be self-sustaining so that you don't have to bother about basic services.
Look out for safe and secure campuses and well-managed maintenance and house-keeping services.
Make sure there are adequate arrangements for civic amenities.
It should have access to ambulances and close proximity to hospitals.
Such projects must have recreational clubs, dining halls, and community centers. This will help you spend an easy and active life.
Make sure the project has access to transport facilities and is well connected to railway stations and the airport.
5.CAREFULLY CONSIDER RESTRICTIONS
Even as retirement communities boast of several facilities and services they also come with some restrictions.
Before you plan to settle in such a project make sure you go over the fine print of what you are not permitted to do.
These restrictions could range from age limit for purchase to constraint on resale and rental.
Some senior living projects may not allow pets and place restrictions on noise levels, entry of guests and parking of vehicles.
Make sure that all these terms and conditions are clearly spelled out in the contract and understood.
TOWARDS A BETTER FUTURE
Your golden years are meant to be enjoyed doing all the things you had no time for.
To make this phase of your life the best one, ensure you choose the right property and project.
Meticulous financial planning and investment at an early age will give you the independence to spend your post-retirement age comfortably.
Buyers who opt for retirement communities represent a small segment of buyers. This is because the concept of senior citizen housing still carries a social stigma in our country.
As social norms and mindsets evolve, senior living projects are gaining ground. Such homes are developing into a niche and popular housing segment.